The Easiest DIY At-Home Manicures!
Magic Press On Nails are the magical nail that reimagines the traditional salon manicure. This set provides women with cutting-edge, trendy and creative nail solutions that deliver salon-quality results. Through genius innovation, Magic Press On Nails are transformational products that are fun, quick, safe – and always easy to apply.
Customize your unique manicure with the press-on Nails!  The Magic Press-On Nails are very easy to use - hold and press down in place for about 15 seconds, and you're done!  These are durable press-on nails that lasts through showering, sleeping and most of the daily activities. 
The Magic Press-On Nails are especially perfect for nail art lovers as it will not damage your actual nails.  They come with various styles and designs that fit all occasions.  You can even add different decoration on these full-coverage nails easily!   

HIGHLIGHTS:

💅EASY TO APPLY: Just apply glue or the adhesive layer and press the nails in place for 15 seconds for a new nail style with perfectly smooth and fine finish
💅LAST A FULL WEEK:  Strong adhesive power that helps the nails to stay securely for 1-2 weeks
💅DURABLE & REUSABLE: Made with high-quality materials that will not wear or tear easily, and can be reused after removing the adhesive layer
💅WATERPROOF: Completely waterproof adhesion, you don't have to worry about your nail chipping while swimming, doing the dishes or showering.
💅DO NOT HARM NAILS: Do not damage your actual nails like traditional manicure treatment that buffing is needed.
💅COST-EFFECTIVE: Reduce your spending on nail salon visits and help you save time as you can get your nails done right at the comfort of your home.
💅FASHIONABLE DESIGN: With different colors and styles, you can easily change your nail styles depends on your mood or outfit.
HOW TO APPLY:
Clean your actual nails with the nail cleaning cotton included or alcohol

Select the correct size of the nails for each finger

Apply glue or stick the adhesive gel layer to the artificial nails

Align with cuticle, gently press on the artificial nail & hold for 15 seconds

To remove, gently insert the removal stick from the edge of the artificial nails, and pry softly to remove the artificial nail. (It is advised to soak the nail in warm water for 10-15 minutes before removal if applied with glue)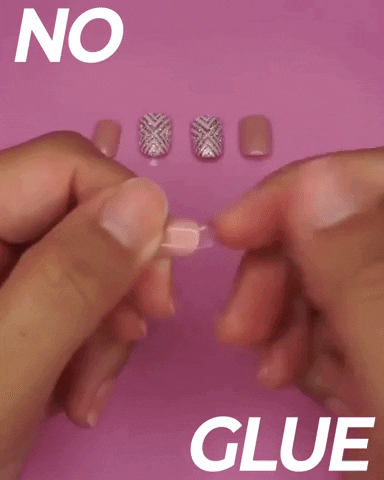 Description:
Packaging Includes:
1 Set (30pcs) x Magic Press On Nails
Click 'BUY IT NOW!' and enjoy a limited time discount!

*Limited Items Remaining In Stock! Not Sold In Stores!*

100% MONEY BACK GUARANTEE